Pumpkin Patch
Trinity Members and Volunteers: Sign Up To Help Below!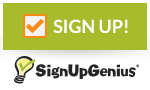 Working at the patch is so much fun! We provide all of the supplies you'll need, and the job is pretty simple: Share a smile and sell some pumpkins! Many shifts are available and can be found at the sign-up link above.
Pumpkin Unloading and Set-Up: Friday, Oct. 8 @ 4:00 pm
Patch Volunteer Training: Wednesday, Oct. 6 @ 6:00 pm & Friday, Oct. 8 @ 3:00 pm (and as needed)
Patch Opens: Saturday, Oct. 9 @ 9:00 am
All patch proceeds will benefit Trinity's National Youth Gathering team. A group of TLC's high school students and their leaders will be heading to Houston this summer to come together with 25,000 other teens from across the country as a community of God's people. They will praise God with other Christians their age, be encouraged in their walk with Jesus, and learn about their identity as a child of God. Thanks for your support! 
The Patch Opens to the Public Saturday, October 9!
Hours of Operation:
Weekdays 11:00am-6:30pm
Saturdays 9:00am-6:30pm
Sundays 11:00am-5:00pm